WHAT IS THE FIREARMS STORAGE PROGRAM?
This program can save lives, protect property and preserve rights. This program is Voluntary Firearms Storage for responsible gun owners by gun owners (i.e., licensed and insured FFL's like American Trailhead). They can be stored for any duration of time from days to months. When you store them, you want to know that you will retain ownership as well as your property and privacy rights will be protected. We all want and deserve to be treated with dignity and respect. It's all about freedom, safety and compassion.
American Trailhead operates our Firearm Storage program in partnership the Hold My Guns® 501(c)3 nonprofit. We are an official HMG FFL Storage Partner in Cumming, GA. We were HMG first partner in the state of Georgia and supported the legal diligence to bring them to our state.
STAKEHOLDERS INTERESTED IN THIS PROGRAM

Firearms Storage is an important tool in the toolbox no matter your role…
Person in Need or Crisis
Family, Friends, or Co-worker
Mental Health and Suicide Prevention Professionals and non-profit organizations
Law Enforcement, government agencies, courts, 1st responders, and other public sector agencies
Public/Private Cross-agency Crisis Response teams at our local, state or federal levels
Potential HMG FFL Storage Partners
REASONS TO STORE FIREARMS

Sometimes it is helpful to temporarily and voluntarily remove firearms and accessories out of the home or a situation. There are an almost unlimited set of reasons where you would benefit from storing your firearm, ammunition and accessories at our licensed and insured facility.
Protect people that will be newly residing in the residence (i.e., adoption, foster care, elder care, visitors, etc.)
Moving or changing to transitional housing
Securing these items while you are away (seeking medical care, vacation, business travel, military duty station changes, etc.)
Inherited or gifted firearms but you're not a gun person and you are not sure what you want to do with them.
Resolving a temporary personal, mental health or medical situation
WHAT PEOPLE ARE SAYING ABOUT AMERICAN TRAILHEAD'S FIREARM STORAGE PROGRAM:
"… The Need is Real – I can relate it to my past experiences …"
"… Why didn't someone offer this service before now!!! …"
"… It just makes great common sense …"
"… I need this tool in my toolbox …"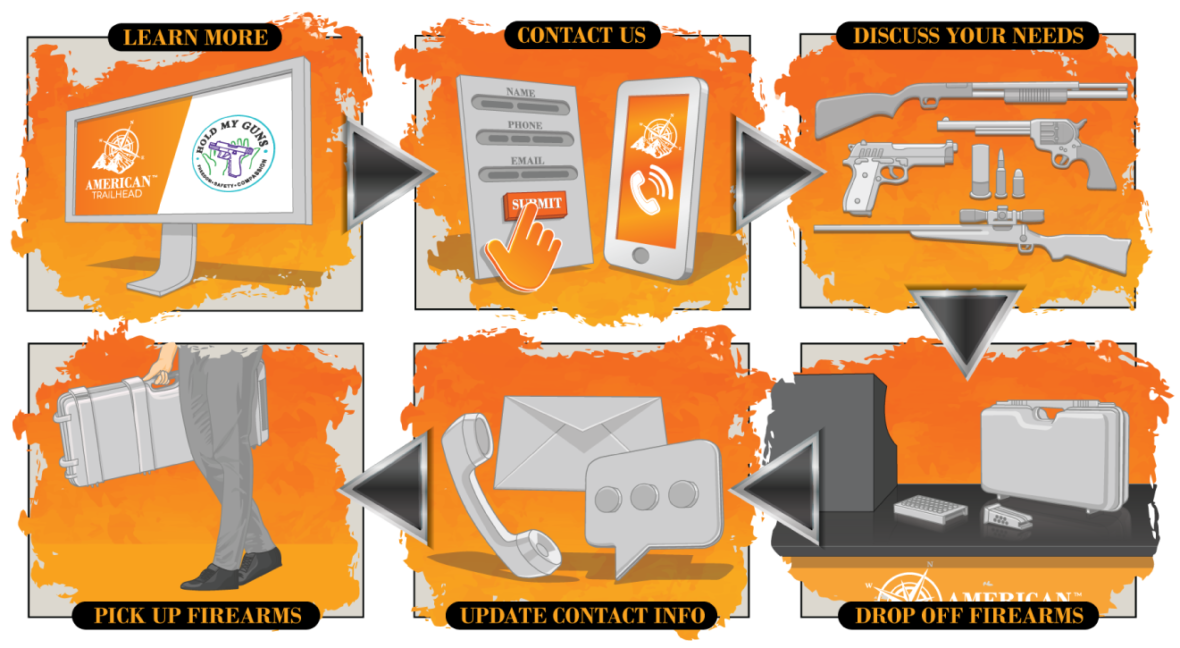 Responsible owner of property:
Learn about HMG 501(c)3 and American Trailhead as an official HMG FFL Storage Partner through both their websites, LinkTree, Social Media sites, Blogs, and YouTube videos
Answer your questions

Complete and submit our web contact form (Firearms Storage Inquiry)
American Trailhead team will schedule a call or meeting to explain the program and answer your questions

Discuss your specific needs and determine the acceptable items to be stored
Bring items to the shop (Firearms and magazines UNLOADED)

Formal review of contract and agree on pricing (monthly or annual rates vary by types of items and quantity)
Complete HMG / American Trailhead contract and inventory the property including taking photographs
Sign contract and pay for service

Receive a copy of your receipt and contract including inventory addendum
Keep your contact information up-to date with American Trailhead
Schedule a day and time to return the property to responsible owner of the property
Complete an ATF background check
If approved, return items to you.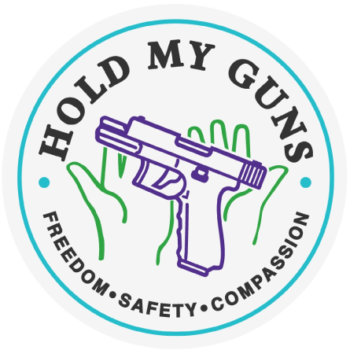 Connect responsible firearm owners with voluntary firearms storage, through our national network of partnering FFLs, during times of mental health crisis or personal need. To be human is to go through ups and downs in life. We believe that times of hardship should be met with an outpouring of compassion and camaraderie, not fear-mongering and abrogation of constitutionally-protected rights
Having a Crisis does not mean you have to go it alone!"
American Trailhead – "We do not choose to go through Crisis and we are rarely granted the ability to prepare or foresee a crisis. Deescalating a temporary personal situation by providing solutions that do not compromise a person's 2A rights by giving them a voluntary solution to store their firearms which provides the opportunity to save lives. God has certainly blessed our family and business, and we are honored to utilize our resources in a way that will save lives while having a positive impact on individuals, families, and communities."
AMERICAN TRAILHEAD'S FOCUS WITH HMG
Firearms Storage
Off-site storage helps in times of need, prevent suicide, accidental shootings, theft of firearms, and stolen firearms used in crimes.
Community Outreach
Sponsoring educational and volunteer opportunities through our HMG FFL Storage Partners.
Crisis Awareness Training
Provide training in suicide prevention for gun owners and firearms professionals.
Mental Health Advocacy
Cultivating a holistic approach to mental wellness including connection within the firearms community, athletic challenges, and mental health resources.
LIKE ALL NON-PROFITS, HOLD MY GUNS 501(C)3 IS ENABLED THROUGH
Public Awareness
Sponsors
Donors
Volunteers
FFL Storage Partners
Events
Learn more and get started with American Trailhead Firearm Storage by submitting the form below: