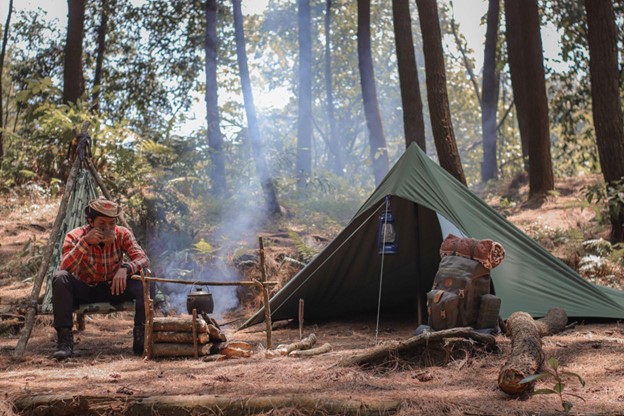 Fall Camping 101 – Staying Warm & Safe
Camping in the fall season is the best time to enjoy the whole activity to the fullest, the reasons being wonderful early sunsets, the flow of nice soothing breeze, and a lesser crowd. This allows you to take full advantage of the season. Whether you are on a backpacking solo journey or going out with the family for leisure camping, it is important to be ready to face the challenges thrown by the autumn season. We're sure you've got the usual tips on camping; here's a list of some tips specific to camping during the fall.

Preparation
The first and most important tip is the easiest step you take for a hassle-free activity. Before heading out, you need to ensure the location, your stay, and your necessities for the camping trip are all set up. You need to do a proper analysis of how your trip is going to be as this will be of strategic help to you.

Packing of Suitable Clothes
As it is a transitional season between the summer and the winter, it is essential for you to pack accordingly. Choose warmer fabrics that keep you comfortable throughout the day, and it is also important to avoid unnecessary clothing items to take with you during camping; pack only what you need.

Remain Comfortable
Keep yourself and your tent insulated thoroughly. The main goal is to be ready for the weather, so remember to suit up to maintain a comfortable core temperature. Make sure you have all the necessary equipment and clothing to keep yourself cozy and comfortable. Also, you need to ensure the land below your tent is leveled properly for a comfortable stay.

Eat Right
Eating a lot in terms of quantity is not advisable. Instead, eat just the right amount of food. Your diet is responsible for most of your functions, so you need to accordingly. For example, you can go for a one-pot meal which is a very effective way of consuming the right amount of food during camping activities.

Get Enough Sleep
The important aspect that needs to be focused on is the amount of rest you get, it is necessary to have an ample amount of rest so that you don't get drained out while performing activities like hiking. So ensure you have the right sleep pattern and are rested properly, as this will help you enjoy the camping experience to the maximum.

Stay Warm
What's a camping trip without a good campfire? It is the most fun part of all! A campfire acts as a fun element and also helps you beat the cold. The fun part includes your group gathering around the campfire and participating in essential camping activities like sing-a-song, scary stories, or as simple as just making s'mores. The main purpose of it is to have the most fun with friends and families. Fires are also known to keep wildlife away, ensuring your safety and theirs.

We hope you took notes, and that you enjoy your camping experience. If you're looking for the right tools and gear for your wonderful experience, check out American Trailhead for quality products dedicate to camping.