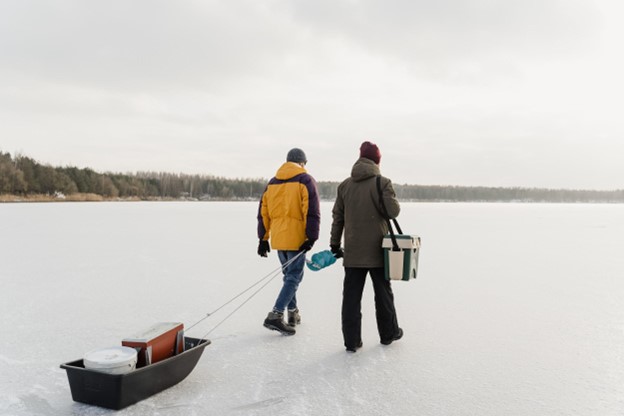 Winter Outdoor Safety Tips
Working outdoors in winter is not only unpleasant but could be dangerous for your health. The cold outdoors, especially in subzero temperatures, can cause hypothermia, dehydration, numbness, and frostbite if you stay unprotected for a long time. When you work outdoors in winter, you should beware of these dangers.
Wondering how you can stay safe when working outdoors? Follow these winter outdoor safety tips.
1.   Eat and Drink Right
Ensure you drink plenty of water as you tend to dehydrate quickly in chilled weather. As dehydration causes fatigue, dizziness, and headaches, you should stay alert outdoors in the winter.
Eat enough food, mainly carbohydrates and fat, in a day, as your body utilizes those nutrients as energy to feel warmth in cold temperatures.
2.   Take Frequent Breaks
Outdoor work can get challenging and exposes you to safety risks. Get enough sleep to stay active on the job when situations get more hazardous.
Your body needs breaks from the cold so your temperature can return to its normal state. Decide on your warm-up times ahead of time to avoid shivering and numbness.
3.   Stay Dry
As damp clothes quickly drop your body temperature, you should stay dry in winter so you don't catch a cold and fall severely ill. Wear a moisture-absorbing base layer when working to absorb your sweat. Pick waterproof gear as an outer shell to prevent your underlayers from getting wet. Always remove all wet clothes as soon as possible.
4.   Carry a Cold Weather Safety Kit in Your Vehicle
Don't forget to keep a cold-weather safety kit in your vehicle when you are on the road. A cold weather kit includes candles, matches, and emergency blankets. If you burn a candle inside your vehicle, it can add sufficient warmth and ward off hypothermia for a significant amount of time.
5.   Cover Your Exposed Skin
Cover exposed skin before you step outside. As the wind chill drops, your exposed flesh may freeze quickly, which causes hypothermia and frostbite. You should wear multiple layers of the right materials.
Wear polypropylene or the same wicking material on Layer 1 (closest to your skin), as that absorbs sweat from your body and keeps your skin dry. Put on an insulating layer of wool or polar fleece-type materials on Layer 2 (middle layer). Wear nylon or similar material on Layer 3 (outer layer) to block the wind.
Always wear a face covering, hat, gloves, and socks. Go for thermal and waterproof gloves if your job allows it. You should always keep your hands dry and protected. Face coverings prevent windburn, and a hat controls the body heat emitted from your head. Avoid wearing cotton socks because they don't stay warm when wet. Woolen socks can pull moisture away from the skin, keeping you warm and dry.
6.   Check Vehicles Before Driving
Winter driving is a vital safety consideration during outdoor work. Before you drive a vehicle (personal or official) in the winter, check if it's working properly.
You should check the brakes, oil, tires, exhaust system, engine, ignition, electrical system, and cooling system. Your vehicle should be capable of handling all the hurdles down the road.
To have a safe winter outdoor work experience, you should follow the tips above. At American Trailhead, you can get high-quality, and affordable winter outdoor protective gear and equipment. Contact us today for more information.